A Natural Talent, Unleashed 

From Ceramic Ashtrays to Battling Women

     Never a great student, the young Prince did show an early interest in art. Whether making a ceramic ashtray for his mother, building a table in wood-shop, or painting art-room still-lifes, he both enjoyed and showed some talent for the creative arts.
​     
This interrest was soon going to take a new and passionate turn into women's fighting. Taking inspriration from TV, movies, pro wrestling and comics, as detailed above, I started drawing. Nothing but women in hand-to-hand combat. Soon I was filling pad after pad with scenes of beautiful, young, long-haired and buxom ladies going at it. Some pads were filled random sketches. Others are scene-by-scene depictions of epic catfights, always ending in grand victories and humiliating defeats.

    Essentially, from age 12, the King has drawn nothing but women. No men, no puppies, no still-lifes or abstracts. Nothing but females competing for supremacy.

     These drawings have always been kept secret. I felt there was something "dirty" about them, and I locked them in an old briefcase, away from the prying eyes of my parents. They only came out at night, but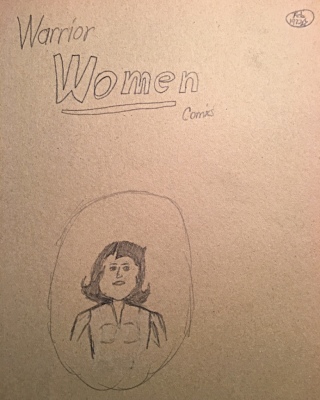 The covers of two early attempts, on the left the very first.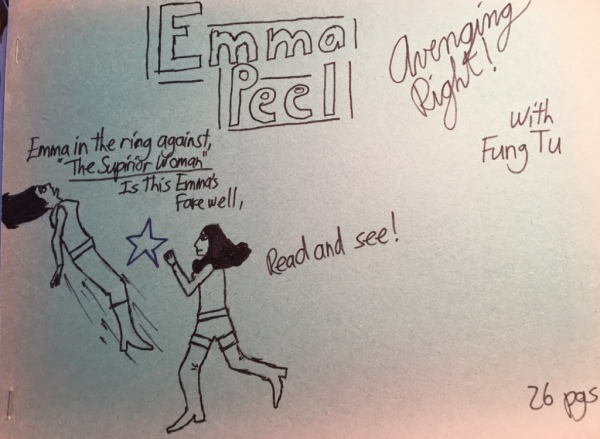 come out they did. 
     Emma Peel is my muse and inspiration, the star of virtually all the drawings. The initial premise was to show what wasn't shown in the catfights that get 30-second clips on TV. Hair is pulled, punches are thrown, bodies are slammed.
    Eventually, this evolved into "The Girls Fight Club," with Emma and a group of lovelies, who engage in no-holds-barred matches that end in a pro-wrestling-style three-count pins. The losing woman is then trussed up, posed with, and carried out.  
    In classic wrestling terms, Mrs. Peel is the "face" in this world. And the evil "heels" she battles pull every dirty trick in the book on her -- hair-pulling, choking, low-blows, double-teaming. They punish her brutally. Emma always battles back, heroically, even if she finally ends up on the bottom side of a schoolgirl pin. 

    Mrs. Peel's opponents are drawn heavily from the baddies she faced on "The Avengers," including Katherine Schofield as Oyuka in " The Cybernauts ," Yolande Turner as Miss Peagram in "The 50,000 Pound Breakfast" and Patricia Haines as Holly Trent from "The Master Minds." She's also tangles with Cathy Gale (Honor Blackman) and Tara King (Linda Thorson), the agents who preceded and followed her as Steed's partner .
     But we've welcomed ladies from all over, including Pam Greir as "Foxy Brown"; Queen Kong of pro-wreslting infamy (who literally crushes Emma); a special Manami Toyota vs. Aja Kong matchup; superheroines like Wonder Woman and Batgirl; and even a beautiful yet evil Nazi officer. 
     Oh, and you may notice, especially in later drawings, that Mrs. Peel has grown waist-length hair. My passion for long, beautiful hair is inextricably tied to my zeal for women's wrestling and hair-pulling. So, I brought them together in Emma, whose thick auburn locks would have been stunning at that length. More to love, and yank.   
     Many decades now have I been drawing, and I have kept virtually every single scrap of it. Eventually, I hope to post it all here. This is a start.
A more recent cover, plus a

hair-raising action scene.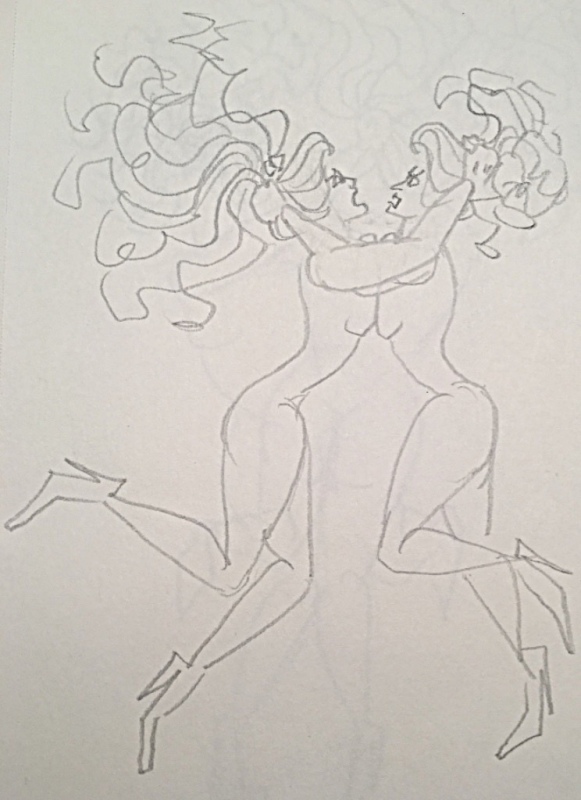 Much More Girls Fight Club Action!